History of Ramsden
25th & 26th February 2017
The History of Ramsden exhibition took place in the Village Hall on 25th and 26th February. Although the amount of exhibits on display this year was reduced, it was the usual mixture of photographs, articles, maps and memorabilia.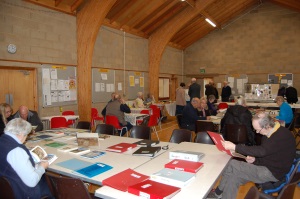 Thanks to very kind and generous donations from visitors, the exhibition raised over £330 towards Village Hall funds.
An addition to the format this year was a slideshow setting out how the History of Ramsden is embracing the digital age, together with the facility of photocopying exhibits for visitors to keep.
Sadly, this year's exhibition is the last to be organised by Isabel Johnson, who has done so for almost 30 years. However, it is planned to contiue the exhibition in its current form, with the addition of a digital database listing all the items, enabling us to search for either name, year, place etc. This is now underway and it is hoped to have it available for use at next year's exhibition as well as the ability to browse through the books and enjoy good cakes and a cup of tea or coffee.
Click here to read a message from Isabel Johnson.
DATE FOR NEXT YEAR'S EXHIBITION IS 24th AND 25th FEBRUARY 2018