Memory Walk 17th September 2017
Talk and Walk and Thanks Isabel's poem on her visit to Essex Radio to promote the walk
I would like to praise and thank all those generous people in Ramsden Bellhouse and surrounding
areas who have sponsored me on my family walk for Alzheimer's (I've learnt to spell it) Research
'Memory Walk', and particularly those who took sponsor forms.
Four generations of my family who walked will have paid in more than £2,000 for Alzheimer's Research. This covers Dementia in all its tragic forms as well.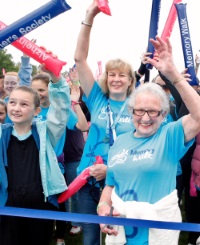 I walked the 1.5 kilometers with my daughter, grandson, his wife and
three great-grandchildren, which is about my limit at 91!
I could tell you many heartwarming and heart rending stories regarding those who sponsored me and their relatives and friends suffering in this way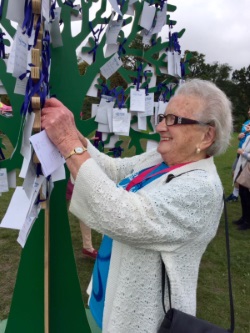 For them I tied a list of their names on the Memory Tree and said a prayer for them and their carers.
This year's Village Charity is for the Dementia Unit in Basildon Hospital. If anyone would like to donate or raise money for this cause, contact me on 01268 710428 or email:
mailing@ramsdenbellhouse.info .

Talk and Walk and Thanks
We went to BBC Essex,
my daughter Anne and me
To talk upon the radio
and famous we would be.
Outside the building looked the same,
I'd been before you see
but inside it was different,
new territory for me.
But this I have to tell you,
one thing was just the same.
Such friendliness and atmosphere, was like when last I came.
We felt immediately at home, we felt we were worthwhile.
We did our chat on Alzheimer's, and the 'Walk', which is a mile.
At home I waited patiently, my fans would ring you see.
But sad to say, that up to date, my Fan Club's only three.
I'd like to have been famous, but I'm not the one it's for.
So thank you all who've sponsored, two thousand pounds and more.
I hope we've raised awareness of this tragic awful thing.
And the generous sponsor money will help a cure to bring.
NB. 3,000 people walked at Hylands Park on September 17th. I was honoured to be chosen to cut the starting tape and, at 91 years, walked the mile.