St George's Day Breakfast - 23rd April 2017
Early arrivals were waiting before 9am to partake in the annual St. George's Day Breakfast.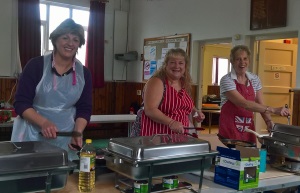 Once again it was a great success, families mingling with friends and neighbours.
There was a steady stream of people, waited on by our attentive waiters and enjoying the lovely atmosphere and their full English breakfast of toast, orange juice, tea and coffee for £6: £3 half breakfast all prepared by our team of cooks.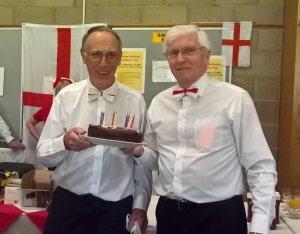 We once again celebrated our Chairman, Clive Jeffree's, birthday with a chocolate cake and a chorus of 'happy birthday'.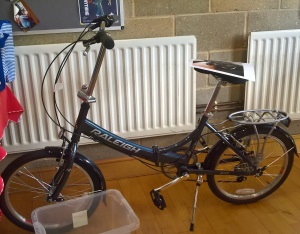 This year for the first time we held a raffle, organised by Jenny & Mick Kohter. They obviously have a winning way with retailers and organisations as the range of prizes on the table was amazing, the first prize being a unisex collapsible bike, donated by Halford Stores and won by Gerri Gould of Brainwave, our nominated charity of last year.
Her picture is on the front of the latest village magazine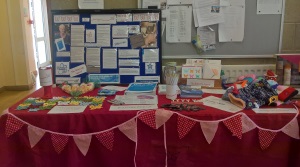 Nurses from the Dementia unit of Basildon Hospital came along and joined in the fun, as well as promoting the wonderful work they do.
Together with the raffle we made a healthy profit of £856.90, which goes towards the charity for the upkeep of the village hall.
If you were not able to attend this year we look forward to seeing you next year and thank you once again for your support.
Ann Wellborne, Social Secretary
The photo gallery will follow shortly.