Ramsden Bellhouse Music Festival
30th June 2018
Click here to view Photos of the day's events
The 2018 Music Festival was a great success once again for the fourth year running.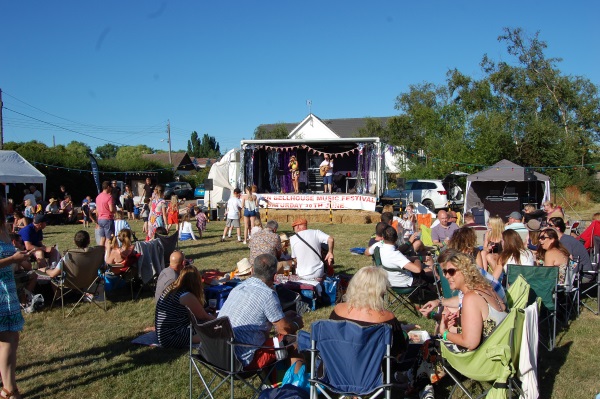 We were blessed with beautiful weather and the gates opened at 2.30 pm with lots of people arriving early to pick their spots on the grass or under the marquees.
The first act at 4pm was the very popular
D'ukes
, Essex's finest ukulele band, followed by Motown and Country singer,
Sarah Louise
. The third act,
Johnny Mack as a George Michael Tribute
, was amazing with a good rendition of George's songs. The evening was rounded off with a fantastic soul finale act
'Shot 2 Funk'
and laser show with everyone up on their feet dancing.
The ticket price was still only £20 for adults, £10 for age 12 and under, with 5 years and under free. This included 9 hours of entertainment and a barbecue with vegetarian option. Everyone agreed we had all had a wonderful afternoon and evening.
A great deal of hard work went into organising the event; Abby Short organised the acts, Chris, her husband, created the stage and Abby and myself sold tickets.
We had lots of help from the Management Committee members, especially our Chairman Clive Jeffree, as well as members of sections and friends and family. So a big thank you to all those who helped.
If anyone would like to get involved next year or with any other event taking place at the Village Hall please get in touch.
Ann Wellborne, Social Secretary
Ramsden Bellhouse Village Hall
The Groups
         D'ukes              Good Vibrations         Johnny Mack             Shot 2 Funk