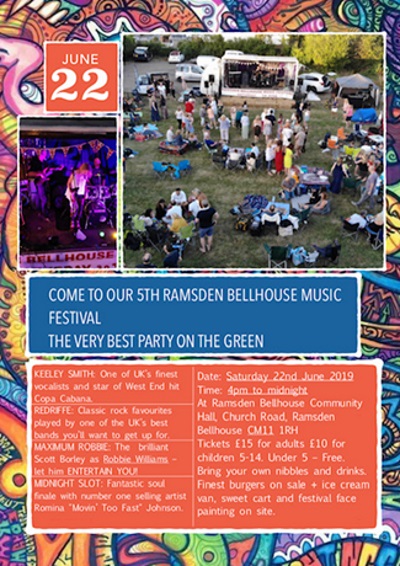 Now in its fifth annual year, this fully authentic music festival – better known as 'the party on the green' – takes place on Saturday 22 June 2019 at Ramsden Bellhouse Community Hall, organised each year to help raise funds to support the Hall which is maintained as a charity.
Already a firm fixture on the local calendar this year's line-up is better than ever and as well as the four acts of great music you can enjoy your own picnic in the park behind the hall and a proper family day out at an event that has something for everyone.
This year's line up features Keeley Smith, one of the UK's finest female vocalists performing pop and contemporary classics – everything from Beyoncé to Barbra Streisand. Keeley has appeared in the West End production of Copacabana and as Connie Francis in Let the Good Times Roll. Next up is Redriffe, a proper West coast style rock band who will be performing covers from The Eagles, Rolling Stones and
more – guaranteed to get you up and dancing. Headlining the show is Scott Borley as Maximum Robbie; currently the UK's favourite Robbie Williams tribute and he will properly 'entertain you' with his energy and fabulous renditions of Robbie's finest. Completing this year's event is the Midnight Slot featuring leading saxophonist Andre Denisson, a regular performer at the popular Sheesh restaurant, together with Romina Johnson whose collaboration with the Artful Dodger on Movin'too Fast made her a chart topper in 2000. Gates open at 2.30pm with music from 4pm to midnight with a dj and laser show to finish the evening.
There will be a luxury food van on site, ice-cream van, the Glam Van for festival hair and make-up, face painting and festival goers are welcome to bring their own food and drink.
Event organiser Abby Knight says: "The music festival has become a real highlight of the summer with the music taking place on a purpose-built trailer-style stage, supplied by local company, Essex Reclamation, with class acts and a great atmosphere for everyone to enjoy. It's also essential as a charity for the Hall to raise funds to keep it open for the those in the Village and surrounding areas to use and enjoy".
Space is limited so there are just 300 tickets on sale, £15 for adult ticket, £10 for children aged 5-14 and under 5s free.
For further information and to secure your ticket, please call Abby Knight on 07917 003695 email: abby@abbyknight.co.uk or call Ann Wellborne on 01268 711675.
Click
here
to return to the Home page.