PAST, PRESENT AND FUTURE
To view the photo gallery Click Photo Gallery
The link should take you to our photo set on Flickr which will open in its own browser tab.
Click the

icon at the top right of the page to run the slideshow
The History of Ramsden exhibition took place in the Village Hall on
22nd and 23rd February 2020
We are pleased to say that it was a very successful weekend with over 80 visitors on Saturday afternoon
and around 85 on Sunday.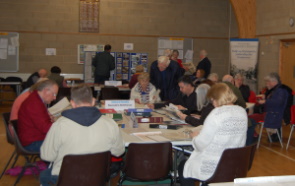 This is an amazing turnout compared to last year, for which we can thank all the people who helped the advertising campaign - distributing leaflets, putting up posters, erecting advertising boards, fixing two big banners on the fences of the village hall, sending emails, posting on the website and Facebook and starring on the radio by giving an interview on BBC Essex whilst advertising the event.
This year the exhibition featured a display covering a century of news, stories, photos and events from 1920 to 2020 which proved to be very popular, and also included displays and personnel from Basildon Heritage and Wickford Archive.
We would like to thank all those who helped to make the event successful, including the people who erected the tables and stands on Friday evening(a big thanks to the Bowls Club)
as well as those who helped clear up on Sunday evening.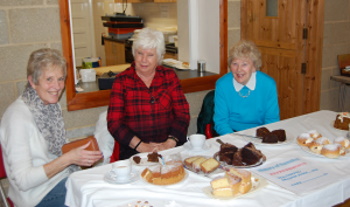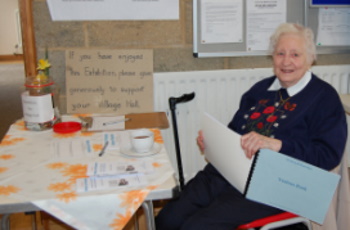 Thanks also to the ladies who looked after the refreshments, with lots of lovely home made cakes
(which attracted some positive feedback comments), as well as those who sat at the welcome desk, encouraged people to sign our visitors book and complete feedback forms as well as rattling the
donations pot.
We would also like to thank the Village Hall Management Committee for allowing us use of the New Hall
free of charge for the weekend. All this has made it possible for us to give a donation of £517.10 to the Village Hall Funds.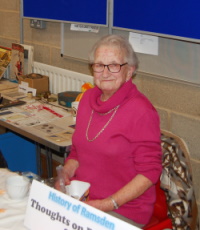 Of course, the biggest thanks goes to Isabel, without whom this would never have happened. We can now look forward next year with renewed enthusiasm.
If you have anything of historical value that you would be prepared to donate, or allow us to copy, then please email us at history@ramsdenbellhouse.info.
History of Ramsden Archive Team