Alan Cyril Pegrum
On Sunday 29th January 2017 The Village Hall Chairman unveiled a
plaque in honour of Alan Pegrum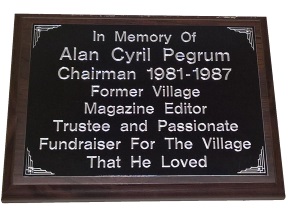 The following is a tribute given by Audrey Pegrum after the unveiling
We came to Ramsden Bellhouse in 1959. After a few months Alan had a bad road accident on the A127. In those days you could park on the A127 and he drove on his scooter into the back of a vehicle in a patch of fog. We had to shut the house up and go back to Laindon to live with his parents as he was in plaster from the chest down and couldn't be left while I was at work.
We came back in 1960 and the Secretary of the Village Hall asked if we would come to the Annual General Meeting which, in those, days, was held on a weekday night, so that we could meet some of the local people. Of course it was in the old hall, as the new hall had not been built or even thought about. We just managed to squeeze into the back, as the Hall was completely full. The local policeman proposed Alan for the Committee, which he served on for 25 years, only leaving to have open-heart surgery.
While he was Chairman a new floor was put in the old hall and from reading an old Village magazine, the Medau Club was delighted as it stopped them getting splinters in their bare feet! While magazine editor I remember Alan coming home from the City, where he worked, having a meal and then setting up the typewriter on the kitchen table where he typed every report, adverts etc. on to Gestetner stencils and then took them to Eddie Peaston, a former Chairman, where they turned the handle of a Roneo machine to print the pages. Afterwards, the pages were put in piles on our dining room table and Pip Barnet, former secretary, and her husband joined us and we would walk round and round the table collating the magazine and the last person would staple the pages together.
A bit later when we were involved with the Badminton Club, when players were sitting out between games the pages of the magazine were set out in the Committee room and players would go in and help with the collating. In those days the magazine was produced every quarter.
Alan wasn't one for modern technology, but he was so proud that from such humble beginnings under Isabel's editorship and modern technology, we have a superb Village magazine and something the whole village can be proud of.
It is through Alan we have a Bowls Club. While he was Chairman he received a letter from Basildon Council offering us the use of two mats if we were interested. Alan thought about this and decided there were enough retired people in the village to give it a go. He arranged for somebody to come and show us how to play and, as they say, the rest is history.
Looking through some of the earlier magazines I was amazed how Alan was involved with so many things. He ran Antique Fairs to raise funds for the Hall and the Village Charity; he compiled crosswords to put in the magazine, led rambles, ran quizzes and sold greetings cards and other Christmas items around the village to raise funds. He also ran stalls with these items at village bazaars and fetes and would often come home from work with things he had bought in a market in London during his lunch time to stock the stalls.
Apart from his Community work he was a very active member of St. Mary's Church in the village.
I would just like to finish by saying that perhaps we should be giving a personal invitation to our many new neighbours to come along to the Village Hall as that is how Alan and I became involved in village life. I would also like to thank, on behalf of the family, our Chairman Clive and the Committee for putting up this plaque in Alan's memory.