We run a Whist Drive at Ramsden Bellhouse which takes place in the Old Hall at


7.15pm on the 2nd Saturday in the month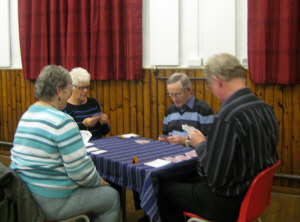 Ours is a friendly Club where new members are made very welcome, even if they have never played before. Existing members will be only too happy to help you to get started until you pick up the basics of the game. As we have around 24 players attending each Whist Drive, you can either come along on your own or, if you prefer, bring some friends with you.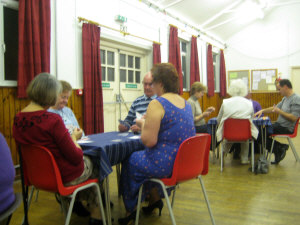 Why not come along one Saturday and give it a try, we are sure you will enjoy it so much you will keep coming back! If you require any further information just give us a call. The cost is £3 per player, which includes a cup of tea or coffee and a raffle.
---
Spring 2017 report
Fun Whist continues on the second Saturday of the month, starting at 7.15pm.
Following Roy's concerns about the low numbers coming to Whist, reported in the last magazine, it is a great pleasure to all of us attendees to find that numbers have now increased. This makes running the Whist sessions more viable. Obviously, it would be exciting to increase numbers even more to ensure Fun Whist continues!
Don't be shy! Come along to a session and try it out (if you are a novice to Whist) or just come and play a pleasant, relaxed game in a friendly atmosphere if you are already a player.
Please join us for our next session, you would be most welcome. At £3, which includes a cup of tea and biscuit at the interval as well as a free raffle, what could be a nicer way to spend an evening!
You can check the events calendar on the Village website to find the dates of the sessions.
Angela Hodivala