Come and join us on

Monday afternoons at 2pm till 3pm

(not bank holidays).
No club to join, just come on any Monday that suits you. If you know a few dance steps you will fit right in, as we only do beginner and easy intermediate dances.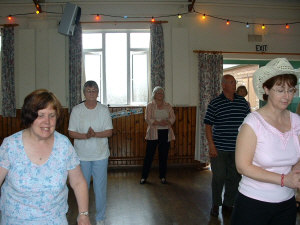 We do a lot of the old favourites from way back, but don't worry about remembering them, our teachers Jean and Lynn walk over every dance before the music goes on, and if we have memory lapses they treat it like a new dance.
We normally learn a new dance every two or thee weeks. The aim is for gentle exercise and fun with friends.
We don't have fancy dress, just casual with comfortable shoes. So if you haven't danced for a while come and have a try see how easy it is to get back to it.
---
Spring 2015 report
At last word has got around about our popular line dancing class – Monday 2pm (except Bank Holidays)
£2 for one hour. Our numbers have swelled considerably, making a great atmosphere.
Our teachers, Jean and Lyn, have been teaching for over 15 years, so we are all very pleased that they are keen to keep the class going. We still have room for more, so please come down and give it a go.
Ann Wellborne
---
Line Dancing Christmas Party
December 2014
Our line dancing party was great fun with everyone entering into the Christmas spirit.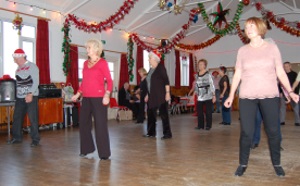 As always, Lyn and Jean have us dancing to great music, be it an Irish Shanty or Rock n Roll.
We stopped half way through an extended lesson to partake in a festive drink and nibbles.
If you are interested in joining us, we are at the Village Hall every Monday from 2pm to 3pm, except Bank Holidays, £2 for a very enjoyable hour. Why not come down just to have a look.
Contact No. 01268 710771.
To see the Line Dancing Christmas Party photo gallery pictures, click here.
---