To return to St. Mary's page, click here.
2017 EVENTS
Strawberry Cream Tea
Musical Evening
Quiz Night
Women's World Day of Prayer
---
STRAWBERRY CREAM TEA
17th June 2017
The Strawberry Cream Tea held at the Village Hall on Saturday 17th June was again a success, raising £610 for St. Mary's Church funds.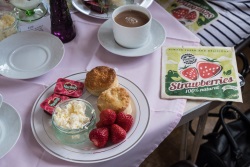 More than 60 people enjoyed home made scones, jam, cream and strawberries, together with tea and coffee.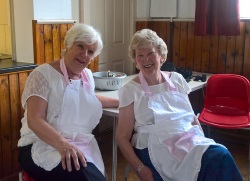 Many thanks to Audrey Pegrum for organising the event and to all her helpers who served the teas; washed up, sold raffle tickets, cakes and jams, and cleared the hall after the event.
Click here to see the photo gallery.
---
MUSICAL EVENING
20th May 2017
A concert by The Church Choir of The Most Holy Redeemer, Billericay
We were pleased to welcome back our friends from the Church Choir of The Most Holy Redeemer Catholic Church in Billericay. The church was packed and everyone enjoyed the evening.
Their repertoire was varied, ranging from choral music to songs from musical shows and finishing with a tribute to the Beatles' album 'Sergeant Pepper's Lonely Hearts Club Band, which celebrates 50 years since its release in 1967.
A short selection of the concert given by the Choir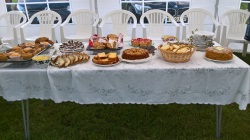 During the interval refreshments were served in a marquee on the lawn with everyone enjoying tea and coffee with a vast selection of home made cakes.
Thank you to Audrey Pegrum for organising this event as well as her team of helpers, all making the
evening a great success. The event raised £865 for church funds.
---


QUIZ NIGHT
17th March 2017
Our Quiz Night on 17th March was an outstanding success, attracting 13 teams.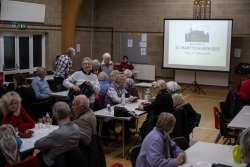 A very successful evening was enjoyed by more than 60 people and over £660 raised in aid of St. Mary's Church. Thanks to our quiz masters, Angela and Steve Tuff, as well as Audrey Pegrum for organising this popular event.
---
WOMEN'S WORLD DAY OF PRAYER
Friday 3rd March 2017
On Friday 3rd March over 5,000 services were held in the British Isles on the theme of
'Am I Being Unfair to You?'
Our service was held at the Baptist Church, Ramsden Bellhouse at 11.30am. Men, women and young people of all denominations all are welcome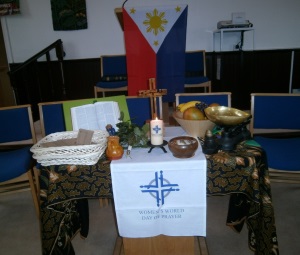 This year the Women's World Day of Prayer was written by the women of The Philipines and entitled 'Am I being unfair to you' which had us reflecting on the unfairness of many situations around the world and asking ourselves what are we doing to help?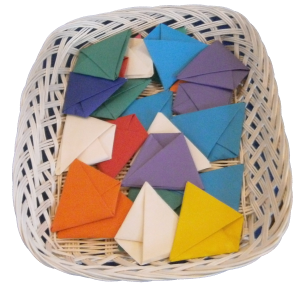 During the service envelopes containing rice were given to everyone as an symbol of 'dagyaw' when the community get together to help the rice farmers planting and harvesting.
A time of fellowship was enjoyed by those who came to the WWDP service, and to be part of an event taking place all around the world is awesome.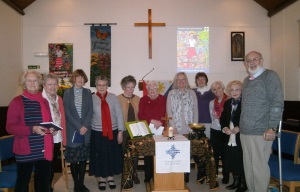 Following the service everyone enjoyed a delicious lunch.
A very big thank you for all who contributed to the event in any way.
If you want to know more about WWDP
call Beryl Clements on 01245 601298.
For further information and resources please see the WWDP website:  www.wwdp.org.uk
Click here to return to the home page