Village Hall Kitchen Upgrade 2015
Chairman's Report November 2015
Ramsden Bellhouse Village Hall Kitchen project
Thankfully I can report that the kitchen refurbishment is now complete.
I must thank all the sections and bookings for their patience during the summer months of 2015, and for their tolerance of the disruption and dust levels. At one time I had my doubts that it would ever return to normal but, thankfully, we are now there.
The layout has been altered to allow, with a little tolerance, two groups to use the kitchen facilities simultaneously. The roller shutters allow access to both halls with each side having its own washing and hot water facilities. Centrally there is an induction cooker hob together with a double oven; one word of warning, as it is an induction hob it must only be used with the special pans provided, normal pans do not work. Also there is an industrial dishwashing machine, please follow the instructions for its use.
There has been a door cut through from the kitchen to the committee room. This will allow access to the kitchen without interference to the main halls. This layout allowed a lot more cupboards to be fitted so every group can now have its own storage cupboard. Although the kitchen is the same size, it appears much bigger so it will not feel as crowded as before.
Lastly, I must thank the Basildon Community Investment Fund for their grant of £14,500 towards the cost of this refurbishment, which I feel is well worth it.
The new kitchen was officially opened on 1st September 2015 by Councillor Terri Sargent.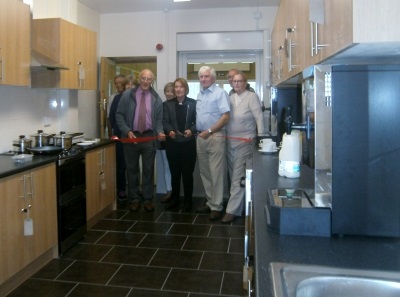 Clive Jeffree
Chairman
Ramsden Bellhouse Village Hall
---