Ramsden Bellhouse Village Hall AGM
26th January 2020
The Village Hall AGM was held on Sunday 26th January 2020 in the New Hall at 3pm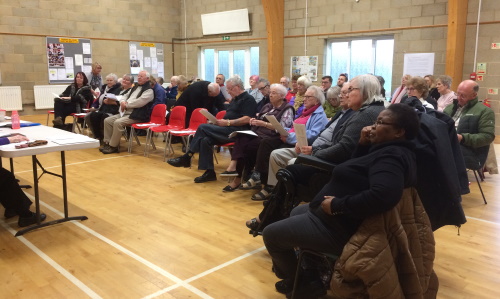 The Chairman opened the meeting by welcoming those present, apologies were received and last year's minutes approved.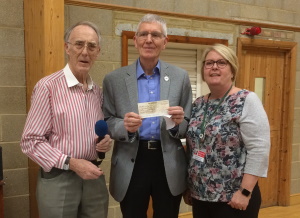 In a change of order this year the Chairman presented a cheque for £2,614 awarded to last year's charity,
HEARING HELP ESSEX. A representative gave a short address, thanking the Village Hall members for such a generous donation.
To read more about HEARING HELP ESSEX Charity
click here.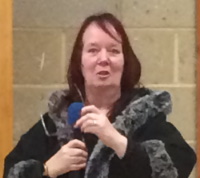 Two nominated charities were put forward this year, Wickford Food Bank and Charms Essex Therapy Centre. Following their presentations, a vote was taken and CHARMS ESSEX THERAPY CENTRE was chosen as the sponsored village charity for the coming year.
To read more about CHARMS Charity click here.
The formal part of the AGM began with the Chairman's report, in which he outlined the last year's events, including The History of Ramsden, St. George's Day Breakfast, Music Festival and the Christmas Bazaar. He thanked the Social Secretary, Ann Wellborne, and all those who helped make the events so enjoyable.
The meeting then followed with a presentation of last year's accounts and a report from Audrey Pegrum, the Bookings Secretary. Audrey announced that we now have a new regular booking, WW (weightwatchers) starting at the beginning of February.
Next on the agenda was the election of officers to the hall management committee.
Clive Jeffree announced that he will be stepping down from the role of Chairman at the end of the year and asked for volunteers to take on the role.
It was proposed from the floor to reinstall Luke Maguire to the Management Committee as a public member. This was seconded and the vote carried.
Voting then took place for the Committee to serve for the coming year. Click here to see a full list of the Management Committee.
Finally, questions from the floor were put forward to the Committee for clarification.
The meeting then ended with refreshments and time for a chat.
---
NEXT YEAR'S AGM WILL BE HELD ON 31 JANUARY 2021 –  ALL ARE WELCOME
PLEASE COME ALONG AND MEET US