2017 EVENTS:
---
Horticultural Society Open Garden and Cream Tea
2nd July 2017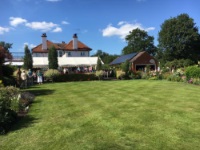 The afternoon of 2nd July was a lovely and sunny. We had presold 188 tickets but the weather drew in a total of 257 people with just as many Cream Teas to be served!
The Horticultural Society members pulled together wonderfully to manage the afternoon and we hope people did not have too long to wait for their teas.
All of this generated £262 for Essex Air Ambulance from the sale of plants and the Society will be donating £100 to the Village Hall nominated Charity, Dementia Care at Basildon Hospital in addition to what will be raised at the Society's Charity Event
(a Beetle Drive) on Saturday 7th October.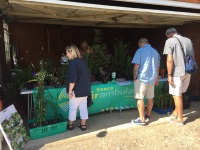 The Horticultural Society was able to add £1,778 to its funds.
We thank all those who came for their wonderful support and hope everyone really enjoyed the event.
Photo gallery to follow
Rusi Hodivala
Chairman, Ramsden Bellhouse Horticultural Society
---
Ramsden Bellhouse Music Festival
24th June 2017
For the third year running everyone had a good time at the 2017 Music Festival. Shall we do it again?
The weather was kind to us and, unlike last year, the ground was dry and firm. The gates opened at 2.30pm and people arrived early to take their places either on the grass with their seats, picnics and drinks or under the marquees.
The event officially kicked off at 4pm with the group Tumblewood who gave a lively performance of Folk and Country music, followed by Charlotte Inglis who wowed the audience with her lovely voice.
Next came the Rod Stewart tribute act with Greg Dorrelly who mingled amongst the dancers enjoying and joining in with his rendition of music made popular by Rod. The last act to appear by late evening was The Baby Devilles, who had the audience on their feet dancing and singing.
All acts were linked together by the DJ Seany B, with a laser show at the end.
Over £2,000 was made for the Village Hall Charity (Charity no. 1025468) and this year's chosen Charity Dementia Care from Basildon Hospital, raised £250.
Click here to read a fuller version.
Ann Wellborne, Social Secretary
Ramsden Bellhouse Village Hall
---
St. Mary's Church Strawberry Cream Tea
17th June 2017
The Strawberry Cream Tea held at the Village Hall on Saturday 17th June was again a success, raising £610 for St. Mary's Church funds.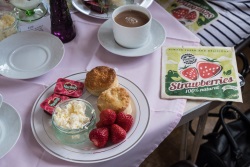 More than 60 people enjoyed home made scones, jam, cream and strawberries, together with tea and coffee.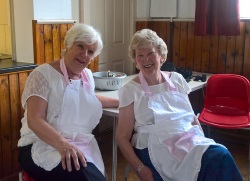 Many thanks to Audrey Pegrum for organising the event and to all her helpers who served the teas; washed up, sold raffle tickets, cakes and jams, and cleared the hall after the event.
Click here to see the photo gallery.
---
Horticultural Society Summer Show
Saturday 10th June 2017
The Horticultural Society Summer Show was held on 10th June, with 148 entries. Numbers were slightly down on previous years but there were still many high quality exhibits.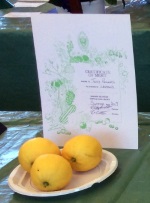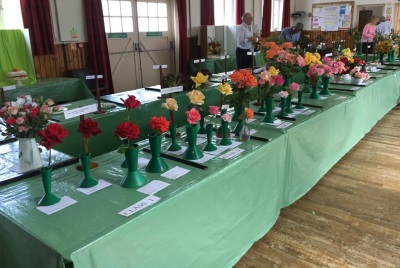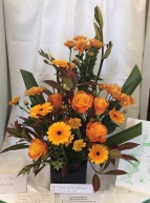 There were roses, floral art, cakes, marmalade, urns, herbs, lettuce, strawberries and even lemons, which was exhibited by Tony Rogers and won Best in Show! To prove how good they were, the Judge actually asked if they were shop bought! Gail Carpenter won the best floral exhibit for her dramatic arrangement. The judge was extremely thorough and was very impressed with the standard of the show.
Thank you to everyone who made the day such a success.
Click here to view more photos.
---
St. Mary's Musical Evening
20th May 2017
A concert by The Church Choir of The Most Holy Redeemer, Billericay
We were pleased to welcome back our friends from the Church Choir of The Most Holy Redeemer Catholic Church in Billericay. The church was packed and everyone enjoyed the evening.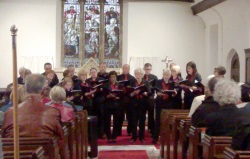 Their repertoire was varied, ranging from choral music to songs from musical shows and finishing with a tribute to the Beatles' album 'Sergeant Pepper's Lonely Hearts Club Band, which celebrates 50 years since its release in 1967.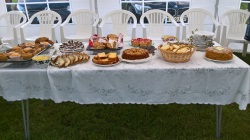 During the interval refreshments were served in a marquee on the lawn with everyone enjoyeing tea and coffee with a vast selection of home made cakes.
Thank you to Audrey Pegrum for organising this event as well as her team of helpers, all making the
evening a great success. The event raised £865 for church funds.
Watch a short extract from the Choir's repertoire, including The Beatles finale.
Click here and select Musical Evening
---
St George's Day Breakfast - 23rd April 2017
Early arrivals were waiting before 9am to partake in the annual St. George's Day Breakfast.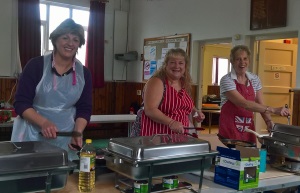 Once again it was a great success, families mingling with friends and neighbours.
There was a steady stream of people, waited on by our attentive waiters and enjoying the lovely atmosphere and their full English breakfast of toast, orange juice, tea and coffee for £6: £3 half breakfast all prepared by our team of cooks.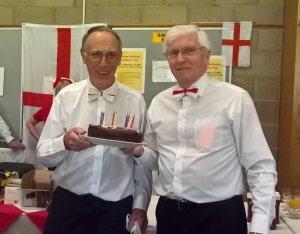 We once again celebrated our Chairman, Clive Jeffree's, birthday with a chocolate cake and a chorus of 'happy birthday'.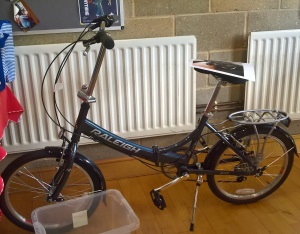 This year for the first time we held a raffle, organised by Jenny & Mick Kohter. They obviously have a winning way with retailers and organisations as the range of prizes on the table was amazing, the first prize being a unisex collapsible bike, donated by Halford Stores and won by Gerri Gould of Brainwave, our nominated charity of last year.
Her picture is on the front of the latest village magazine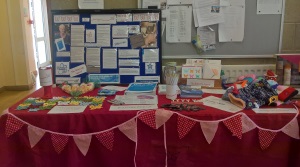 Nurses from the Dementia unit of Basildon Hospital came along and joined in the fun, as well as promoting the wonderful work they do.
Together with the raffle we made a healthy profit of £856.90, which goes towards the charity for the upkeep of the village hall.
If you were not able to attend this year we look forward to seeing you next year and thank you once again for your support.
Ann Wellborne, Social Secretary
The photo gallery will follow shortly.
---
Horticultural Society Afternoon Tea
Sunday 2nd April 2017
On a sunny spring afternoon, over 100 people enjoyed afternoon tea of sandwiches, scones with jam and cream and delicious cakes, all accompanied by the Harmony Encore Singers.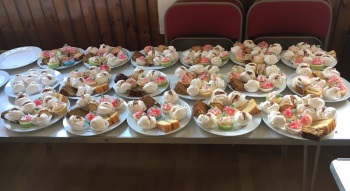 Thank you to everyone who helped run the event, which took an enormous amount of planning, organisation and hard work.
It was wonderful to see so many people come out and support their local Society.
For a fuller report go to the Horticultural page.
Click here to view more photos.
---
Horticultural Society Daffodil Mini Show
Monday 20th March 2017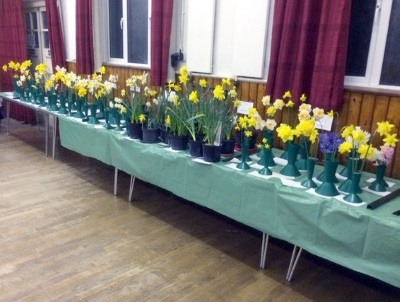 The horticultural season got off to a good start on 20th March with our Daffodil Mini Show.
There were a record 93 entries and the hall was lit up with a profusion of bright yellow. Well done to the winners and better luck next time for those not so lucky.
For a fuller report go to the Horticultural page.
Click here to view more photos.
---
St. Mary's Church Quiz Night
17th March 2017
A very successful evening was enjoyed by more than 70 people and over £600 raised in aid of St. Mary's Church. Thanks to our quiz masters, Angela and Steve Tuff, as well as Audrey Pegrum for the organisation.
---
Women's World Day of Prayer Service
3rd March 2017
On Friday 3rd March over 5,000 services were held in the British Isles on the theme of
'Am I Being Unfair to You?'
Our service was held at the Baptist Church, Ramsden Bellhouse at 11.30am. Men, women and young people of all denominations all are welcome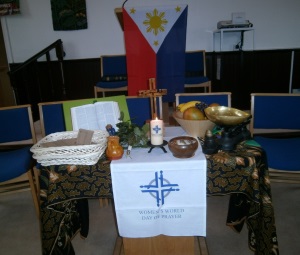 This year the Women's World Day of Prayer was written by the women of The Philipines and entitled 'Am I being unfair to you' which had us reflecting on the unfairness of many situations around the world and asking ourselves what are we doing to help?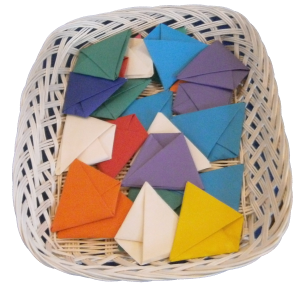 During the service envelopes containing rice were given to everyone as an symbol of 'dagyaw' when the community get together to help the rice farmers planting and harvesting.
A time of fellowship was enjoyed by those who came to the WWDP service, and to be part of an event taking place all around the world is awesome.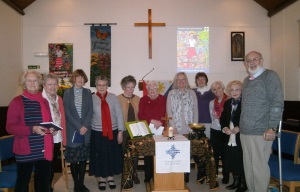 Following the service everyone enjoyed a delicious lunch.
A very big thank you for all who contributed to the event in any way.
If you want to know more about WWDP
call Beryl Clements on 01245 601298.
For further information and resources please see the WWDP website:  www.wwdp.org.uk
---
History of Ramsden
25th & 26th February 2017
The History of Ramsden exhibition took place in the Village Hall on 25th and 26th February. Although the amount of exhibits on display this year was reduced, it was the usual mixture of photographs, articles, maps and memorabilia.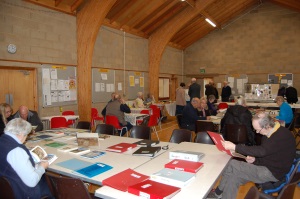 Thanks to very kind and generous donations from visitors, the exhibition raised over £330 towards Village Hall funds.
An addition to the format this year was a slideshow setting out how the History of Ramsden is embracing the digital age, together with the facility of photocopying exhibits for visitors to keep.
Sadly, this year's exhibition is the last to be organised by Isabel Johnson, who has done so for almost 30 years. However, it is planned to contiue the exhibition in its current form, with the addition of a digital database listing all the items, enabling us to search for either name, year, place etc. This is now underway and it is hoped to have it available for use at next year's exhibition as well as the ability to browse through the books and enjoy good cakes and a cup of tea or coffee.
Click here to read a message from Isabel Johnson.
DATE FOR NEXT YEAR'S EXHIBITION IS 24th AND 25th FEBRUARY 2018
---
Ramsden Bellhouse Village Hall AGM
29th January 2017
The Village Hall AGM was held on Sunday 29th January 2017 in the New Hall at 3pm.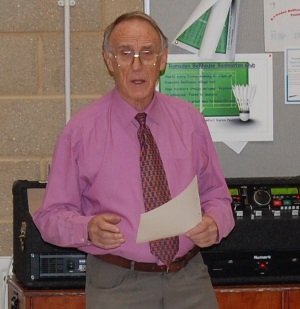 The Chairman opened the meeting by welcoming those present, apologies were received and last year's minutes were approved. He opened his report by outlining the last year's events. The St. George's Day Breakfast welcomed more people than ever and full English Breakfasts were served to over 200 people and raised £916 for the Village Hall funds.
The second annual Music Festival, held in June, was again a great success despite the interruption by rain but, in true "Glastonbury" style it didn't deter everyone's enjoyment. Thanks were given to all those who helped make all the events so enjoyable.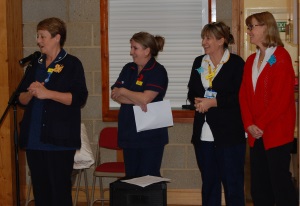 The next subject was the nomination for the next year's charity.  With just one charity being nominated this year there was no vote and the sponsored Village Hall charity is the Dementia unit at Basildon Hospital. Three representatives gave a brief outline of the work being done for Dementia patients.
To read more about Dementia Charity click here.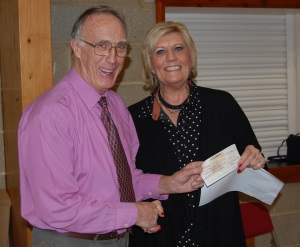 This was followed with the presentation of a cheque for £2,507 for last year's charity, BRAINWAVE TRUST, which was gratefully received by Gerry Gould.
Photographs were taken and a short thank you speech made to all who contributed to the effort.
Next on the list was the election of officers to the hall management committee.
All the officers and members of the present committee had agreed to be nominated to sit for another year. Voting then took place for the Committee to serve for the coming year.
Click here to see a full list of the Management Committee.
Finally, questions from the floor were put forward to the Committee for clarification.
---
Following the AGM the Chairman unveiled a plaque in honour of Alan Pegrum who sadly died last year.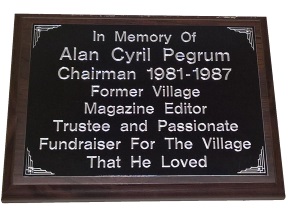 Alan was a tireless worker for the Village Hall, organising many events and helping to raise money for the hall and was Chairman from 1981 to 1987. He was editor of the Village Magazine in the early days of its production and also a dedicated member of St. Mary's Church.
Following the short ceremony Alan's wife, Audrey Pegrum,
gave a short talk on Alan's life and work for the village of Ramsden Bellhouse.
To read a transcript of Audrey's address click here.
---
The meeting then ended with refreshments and time for a chat.
NEXT YEAR'S AGM WILL BE HELD ON 28 JANUARY 2018 – ALL ARE WELCOME
PLEASE COME ALONG AND MEET US
---
©Ramsden Bellhouse Village Hall Management Committee 2017
Registered Charity no.1025468