To return to Dancing page, click here
---
2015 EVENTS
Dancing continues to be well-attended on Sunday evenings. In May we held our annual charity event,
as in pevious years – a square dance with caller. The caller was great value, as always, allowing
everyone from the experienced to the novice to join in, tying us up in knots. Most of us lost the ability
to know our lefts from our rights, all amongst great hilarity, and we managed to raise £350 for the Hall's
chosen charity, St. Luke's Hospice.
The few weeks break in the summer while the kitchen was being renovated, gave us the excuse to run one of our 'bring-a-plate buffets' on the last Sunday before the work started, when there tends to be more eating and talking than dancing.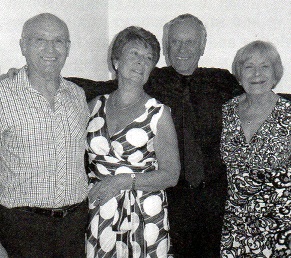 We had another buffet in late September to celebrate the Golden Wedding anniversaries of four of our members – both couples having married on the same day 50 years ago, and just one hour apart! Congratulations to Barbara and Frank Chudley and also to Glenys and Bryan Waeland.
In October we held our traditional annual ball, continuing the event that Joan Telkman started for us many years ago.
Barry Gardiner
As we say life begins on a Sunday evening – come and see for yourself.
To find out details click here