Click on a button to see reports for the selected year
Click here to return to the Dog Training page
2014 REPORT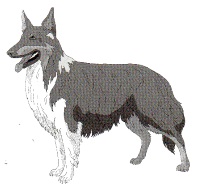 The first six months saw some changes in the trainers at the Club. Gill Winyard decided to resign from the Committee and also from training the 9.15pm class on Mondays, but stayed to do the Tuesday guest trainer evening once a month. Pat Keele is still taking the 9.15pm class alternate months with myself
(Rita Barber) taking the class the other month. Kim Rogers agreed to take the 8.45pm class on the month that I take the 9.15pm class.
It proved necessary to remind Tuesday members that they are expected to attend on Monday nights,
this being a requirement to go on the Tuesday list.
We had a three way match with a couple of local clubs, Witham and Halstead, organised by Halstead, whereby our team came first. A very good result considering a few of our team had never competed before and they put up a very good effort, especially Chris and Rodney who were dragged in at the last minute.
Many of our members have been doing extremely well at shows this year, with a number of people moving up the classes. Well done to all of you and good luck at the last few shows.
News and dates can be found on our website www.rbdtc.webs.com. Please join the website as members.