Click on a button to see reports for the selected year
Click here to return to the Dog Training page
WINTER 2016 REPORT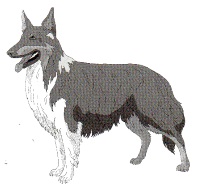 Firstly, a very warm welcome back to Rita, our Secretary, who has been very, very ill this year. We all wish you good health for the future Rita.
Our show season is nearly over and many of our members have done well this year, especially Fiona and Ludo who have won two Novices, good luck in "A" next year. Also Pat and Maddie, who have done well in "C". Congratulations and good luck for next year to all our members who compete.
Our show on 3rd September went very well, all the judges liked the new venue and the weather was kind to us. A very big thankyou to everyone who helped on the Friday and Saturday. It is hard work putting on a show but with a lot of help the load is eased. The show was a great success and we made over £300 for the hall charity 'Brainwave'. Well done and thankyou.
I have bought a new dog this year, a rescue German Shepherd. She is only about 18 months old, but she is very good and I am very pleased with her. Her name is Elle.
Ramsden Dog Training Club is continuing to do well. Congratulations to Fiona and Ludo, a border collie who won their class at Crufts this year, a great achievement – Well Done!
As many of you will know our Secretary, Rita, has been ill for some time now. She has been in and out of hospital –  very ill, but I am pleased to say she is now feeling much better, although not cured. We all wish you a speedy recovery Rita and hope to see you at the Club in the near future.
Unfortunately, as is often the case, none of us appreciated, until Rita became ill, just how much work
she did for the Club. However, I would like to thank the members of the Committee for rallying round and helping to prepare for our Show and taking Rita's class etc.
Our obedience show is on 3rd September at Crouch Valley showground
Finally, the show season is upon us, so good luck to everyone who is competing this year
Valerie Dean, Vice Chairman