2018 EVENTS
Village Hall Christmas Bazaar
Autumn Show
Tea and cakes with Marie Lloyd
Open Garden
Summer Show
Village Hall Christmas Bazaar
Saturday 1st December 2018
The Horticultural Society once again took part in the Christmas Bazaar event at the Village Hall. The raffle this year consisted of three wonderful Christmas hampers.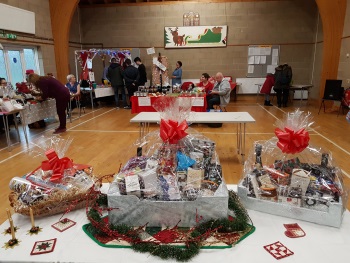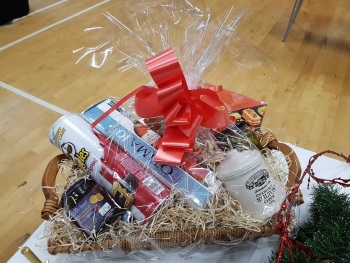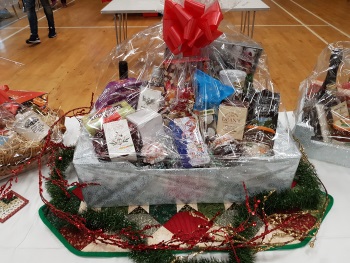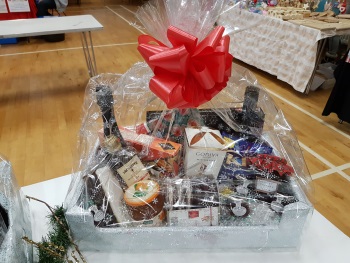 To see the full photo gallery of the Christmas Bazaar click here
---
Autumn Show
Saturday 15th September 2018
This year we had another successful Show, with 228 entries, plus 28 in the 'potato challenge'.
There were some spectacular exhibits, especially in the vegetable, fruit and flower classes, not to mention the floral art and homecraft sections.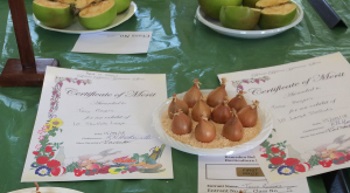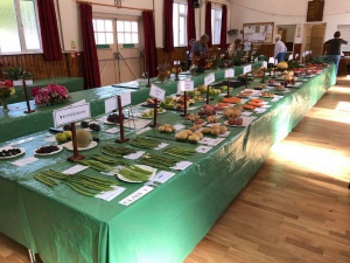 The 'Best in Show' prize went to Tony Rogers for his 10 large shallots, as well as being the best in the vegetable section.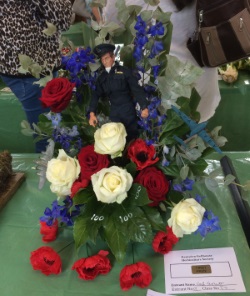 As this year is the WW1 Centenery year, a class in the flower arrangement group was to commemorate this in a floral tribute.
Thanks to all those who contributed to making the show such a success.
To see the full photo gallery click here.
---
Tea and cakes with Marie Lloyd
Sunday 8th July 2018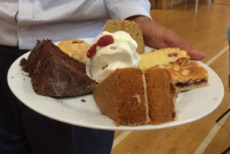 On 8th July over 80 people enjoyed tea and cakes in the company of 'Marie Lloyd'.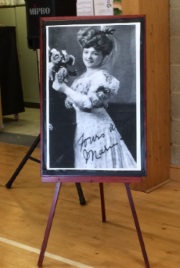 Our speaker gave a great insight to the lady,which was both informative and amusing, as well as giving a rendition of one Marie's famous songs My old man (said follow the van)'. Click link to watch the video.
Everyone enjoyed tea and wonderful home made cakes, from coffee and walnut to raspberry meringues, and raised over £500 for the Village Hall Charity Mind at Basildon, a very worthwhile local charity which has been helping people with mental health problems in the Basildon area for over 40 years. They offer support, advice and services to enable those experiencing mental distress to be empowered to gain a better quality of life.
Thank you to everyone who helped make the afternoon such a great success.
My old man (said follow the van)
---
Horticultural Society Open Garden
18th June 2018
Monday 18th June was a glorious summer's day and what better way to spend it than in a lovely
English country garden.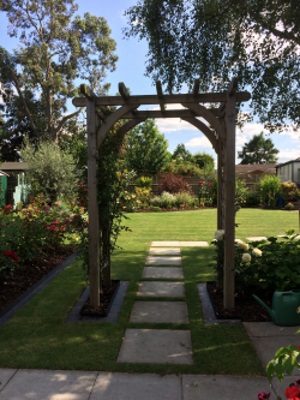 Carol and Tom Dines kindly opened their garden to Horticultural Society members and friends who enjoyed a walk in the garden exploring all the wonderful things hidden around corners and through arches.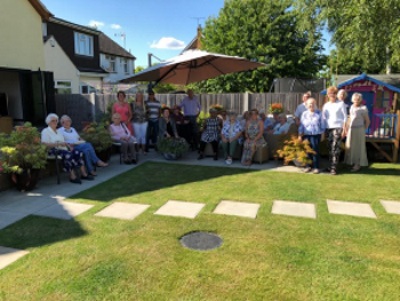 Of course,there was a great selection of cakes to be enjoyed with a cup of tea, sitting in the shade.
Many thanks for Carol and Tom Dines for hosting this event.
To see the full photo gallery click here.
---
Horticultural Society Summer Show
Saturday 2nd June 2018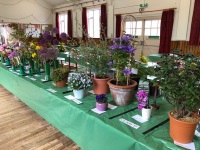 The first major show of the year was held on 2nd June and once again the hall was filled with a wonderful selection of plants, vegetables, cakes and lovely roses which filled the hall with their fragrance.
There were also some great exhibits of violas, alliums and hostas in the general flower section. In the homecraft section we had nine lemon drizzle cakes to choose from. However, the star of the show was the fantastic floral art exhibits. There were so many entries we had to put on extra tables.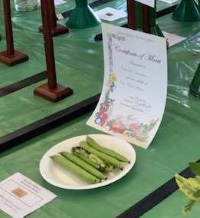 The Best in Show! award went to a lovely exhibit of broad beans.
Thank you to everyone who made the show a success.