To return to Bowls page, click here
2012 EVENTS
---
The year's weather did not get off to a great start but, luckily for the Bowls Club, this does not usually affect our ability to continue.
Nevertheless, our yearly garden party was a little, or more than a little, wet. But true Brits, we carried on and had a wonderful time with the help of a marquee. Games and competitions went on regardless, with a very amusing arrangement of photographs, with members adding their own captions, some on the slightly saucy side, but nobody took offence (we hope). The winners of the garden party competitions were Alan Pegrum, Jack Mac and Brian Smith, which included shooting at a bell (not a person) spinning top and guess how much money was in a jar. This event was supported by members giving a superb rendition of how to, or not to, sing, much to the amusement of the onlookers.
The Club competition champions were: Club Champion doubles, Kay and Peter Debenham (keeping it in the family) and Club Champion singles Bart Clements – well done. All have their names on the hall boards for posterity in case anybody forgets.
Eileen Smith
Click here for full report.
---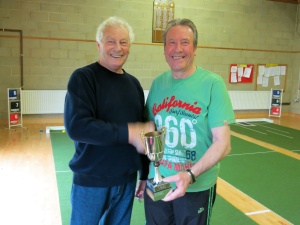 This year the Singles competition was held on Sunday 6th May 2012. There were 16 members participating and we all had a very enjoyable day. The winner this year was Bart Clements.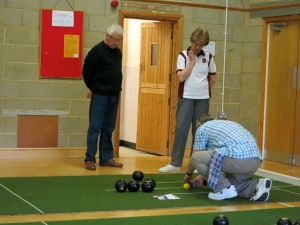 Our next competition was the Doubles which took place in the Village Hall Sunday 20th May 2012.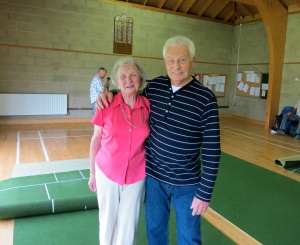 Twenty four members took part and the eventual winners were Kay & Peter Debenham, with Isabel Johnson & Roy Richards as runners up.