To return to Bowls page, click here
2013 EVENTS
2013 Update 2013 Championship Open Day
---
Christmas Bazaar
Home baked cakes and pies were present on the Bowls Stall, along with a superb raffle. Thank you to those members who organised and manned the stalls on the afternoon in support of the Village Hall.
Summer Fete
The Club offered a basket of fruit as a raffle and a marble game; a steady hand required to feed marbles into an upturned flowerpot.
During July, interested members met for a Club lunch at a local restaurant. The overall opinion of our diners was very favourable. Good food, good service and pleasant company in comfortable surroundings.
Couldn't wish for better. Looking forward to future lunches.
Bowling sessions are held on:
Monday evenings 7.30pm. Teams selected at random.
Wednesday mornings 10am. Teams selected at random by drawing numbered spoons or
'spooning' as we call it. Games are generally relaxed, but can become competitive when occasionally
the team's joker is played, for double points score, or when ladies compete against the lads.
Friday afternoons 1.30pm. Pairs play competitively to accumulate points.
Our league teams, Rooks, Ravens and Robins, have played well trying to maintain positions against other league teams. Away games often present challenging opportunities whilst playing at different venues.
Ramsden Bellhouse Bowls Club - 2013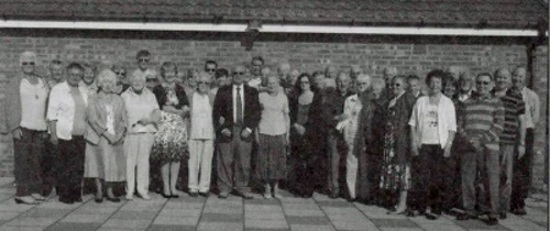 Eileen Smith
---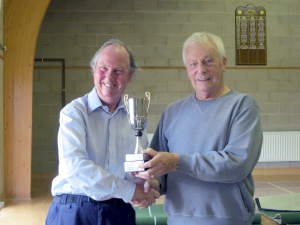 This year the Singles competition was held on Sunday 7th April 2013. There were 14 members participating and we all had a very enjoyable day. The winner this year was Peter Debenham with Roy Richards as runner up.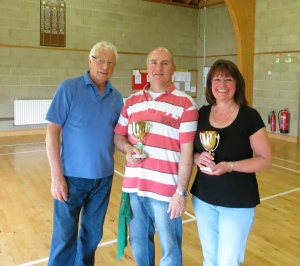 Our next competition was the Doubles which took place in the Village Hall on Sunday 12th May 2013. Twenty four members took part and the eventual winners were Carol & Tom Dines with Angela & Rusi Hodivala as runners up.
---
Click Bowls Club Open Day 2013 here
---